Horseback Riding
Our trail is a 3.5 mile mountain ride with beautiful views of the Great Smoky Mountains
Our horses are selected for their good temperament and disposition. We have over 80 head of horse. Our weight limit is subject to availability, weather, and temperature. If you wish to ride and are concerned about meeting our weight limit, please contact us in advance to be sure we have a horse to accommodate you during your visit. An additional charge may apply.
Our horses are in great shape and we are extremely proud of our Gilliham and Associates #1 Rating for safety (a very difficult rating to acquire). This rating is a result of our strict guideline for safety. Every rider is asked to view a 4-minute safety video prior to loading.
Our loading ramps are designed so that you do not have to pull yourself up into the saddle. All the rider must do is place their hand on the saddle horn and throw a leg over the horse and they are ready to ride.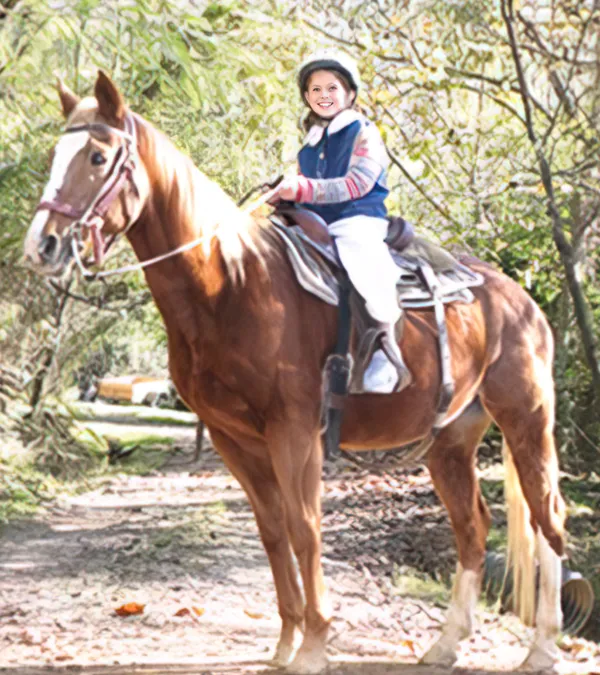 You must be at least 6 years old to ride by yourself.
Children 2-5 are allowed to ride on the same horse with a small adult. We define a small adult as a female size 6 or smaller, or a male size 32 waist or smaller.
Safety helmets are available for every guest upon request.
Our horses receive food and water at all times when not working the trail.
Our stables are the cleanest and safest in the area.
Our Horseback Riding Operations are subject to weather and temperature.
Big Boy Horses okay when available. If you are concerned, you must call ahead to make sure we have one available.
Based on the safety of our horses and our guests, we reserve the right to restrict horseback riders to certain weight and height ratios (to ensure the horse can accommodate you and that your legs are long enough to maintain balance). If you are concerned about your weight, please call us in advance to make sure we can accommodate you.
We're sure that your ride will be enjoyable and your family will make a great memory!
In order to protect our horses, staff, and visitors, we reserve the right to discontinue riding at any time due to weather, temperature, or unforeseen circumstances. If in doubt, please call ahead.