Big Rock Dude Ranch
Looking for horseback riding in Gatlinburg and Pigeon Forge? Big Rock Dude Ranch at Ponderosa is the Gatlinburg / Pigeon Forge area's premier horseback riding and outdoor adventure destination. Located just a short drive from Pigeon Forge and Gatlinburg, enjoy horse back riding in the Smoky Mountains year round (weather permitting) seven days a week from 9:00 am until 5:00 pm.
No Reservations Required - First Come First Served!
If you are looking for an escape from the usual tourist traps, a family outing the kids won't forget, a group or reunion activity, or just a chance to try horseback riding in the Smoky Mountains, Big Rock Dude Ranch at Ponderosa is the place to go. Take a look at our NEW 360-degree virtual tour!
Horseback Riding in Pigeon Forge!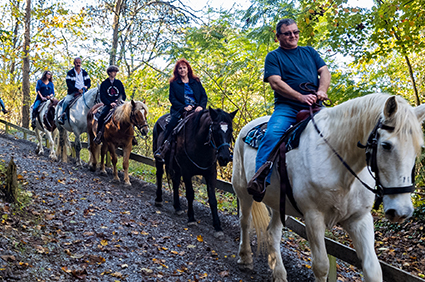 Our Smoky Mountain outdoor activities let you travel back in time and experience the Smokies as the early settlers did 200 years ago as they crossed the mountains on horseback seeing these mountains and valleys for the very first time. Enjoy relaxing outdoor family activities such as fishing in our stocked fishing pond, mining for gems at our gem mine, and visiting the animals at our petting zoo. Our shaded picnic area is the perfect place to relax and enjoy a snack from our General Store.
Click for Rates!
Our Promise